Assemblies
The joining of manufactured bent wire and bent pipe parts as well as cold-formed parts and stamped and bent-stamped parts to welded assemblies is accomplished in part through fully automatic welding systems. In this way, we guarantee our customers optimal quality and efficiency.
Our machinery park features traditional resistance welding machines and complex, robot-guided spot welding systems. Through our highly regarded external partners, we have access to robot-guided MIG and MAG welding systems. Significant welding parameters on all welding points are checked and documented in a process where each welding point in turn has a clear and unequivocal assignment within the welding assembly, since each welding assembly has its own coding. Where a welding parameter is found to be not in order, the welding assembly is automatically cut out and destroyed.
Various standard parts such as screws, nuts, rivets, bolts and pins are put together into assemblies along with our stamped and bent-stamped parts through a separate work process using torque-checking equipment specially designed for this process. The material rivet feeding process is directly and entirely automatically built into the stamping and bent-stamping tool and executed there. The assembly is therefore constructed simultaneously with the form-stamping process.
An assembly is also created, however, by subsequent plastic overmolding of bent wire and pipe parts as well as cold-formed parts. Two overmolding systems are used, each having a butterfly table with maximum tool spans of up to a maximum of 750 x 500 mm and a clamping force of up to 160 tons.
We provide you with:
Welding assemblies with complex geometries
Assemblies made from bent wire and pipe parts as well as cold-formed parts
Combinations of stamped and bent-stamped parts
Combination of bent wire and pipe parts as well as cold-formed parts with stamped and bent-stamped parts
Use of resistance welding and spot welding processes
Use of MIG and MAG welding processes (provided by highly regarded partners)
Screw, bolt and pin assembly for stamped and bent-stamped parts
Fully automatic rivet feeding into the stamping and bent-stamping tool
Plastic overmolding bent-wire, bent-pipe and cold-formed parts in accordance with customer request
With all currently available surface coatings (provided by highly regarded partners)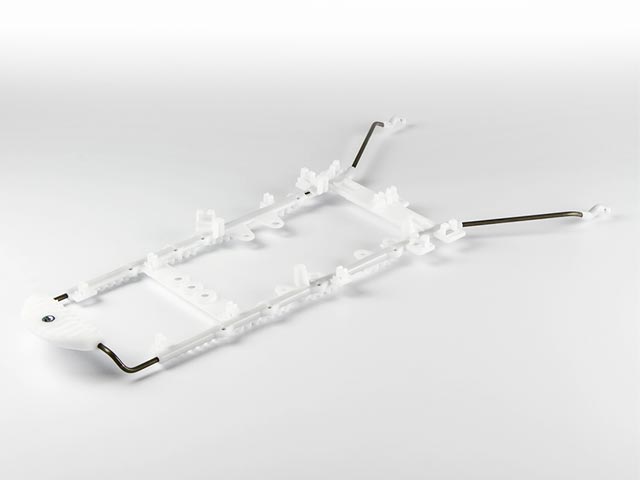 SPRING BASE
Application: Automotive
Material: Spring steel
Special feature: Hybrid component (spring steel/plastic)
STARTING AID
Application: Automotive
Material: Copper
ISOFIX
Application: Automotive
Material: Steel
WIRE FRAME
Application: Automotive
Material: Steel
BRACE
Application: Automotive
Material: Steel
BUSBAR
Application: Automotive
Material: Copper
RESILIENT ROD
Application: Automotive
Material: Steel
Special feature: Flocked
ARMREST
Application: Automotive
Material: Steel
ELECTRODE
Application: Construction
Material: Steel
Special feature: Hybrid component (steel/plastic)
CONTACT BAR
Application: Electric
Material: Stahl
Special feature: clinched